Regaining Lost Strength and Stamina after Hospitalization or Long Illness
Every year our physical therapists across the country treat thousands of people with acute or chronic health conditions, like emphysema, asthma and cardiovascular disease that can wear them out physically.
Flu and its after-effects are another area of health concern because they can linger for weeks, prolonging feelings of weakness, excessive fatigue or exhaustion. Activity slows – or stops – because your symptoms leave you feeling wiped out. The longer the period of inactivity, the less you move and the less agile you become. Often, we see individuals who, because of long-term illness, have lost muscle mass, stamina and breath control.
These types of functional loss are part of what's called deconditioning. During the height of the pandemic, individuals with chronic or severe illness who contracted COVID-19 became more susceptible to the long-term health impacts of deconditioning.
It was the surge in COVID-19 cases in individuals who were already compromised by chronic health conditions that spurred creation of our Recovery and Reconditioning program. But it's the staying power of our physical therapy exercise-based treatment that's helping patients with non-COVID conditions return faster to the activities they love.
Since the launch of our Recovery and Reconditioning program in the spring of 2020, we have helped more than 5,000 people who have experienced deconditioning due to various illnesses or long hospitalizations. More than 90% of those patients say they would recommend our program to a family member.
Our Recovery and Reconditioning program helps with:
Fatigue
Labored breathing (Dyspnea)
Weakness
Headache
Dizziness
Joint pain (Arthralgia)
Muscle pain (Myalgia)
Anxiety/sleep disorders/depression caused by illness sequelae*
* Treatment is exercise-based for lingering or long-term conditions (sequelae) from having the virus. Mental health sequelae from COVID-19 requires treatment by licensed mental health practitioners.
Why is therapy important?
Quality of life is important. Physical health keeps us active and able-bodied, whether it's spending time with family or contributing to the community.
But illness or injury can change that. It can leave you or a loved one struggling to do even small things in daily living, lessening that quality.
Our Recovery and Reconditioning program helps patients return to activity and fuller health. The goal is to rebuild strength, endurance and mobility.
The program, validated in a CDC study, is in partnership with leading medical and clinical experts, including:
Physicians
Physiatrists (doctors specializing in physical medicine and rehabilitation)
Infectious disease specialists
Physical and occupational therapists
Speech-language pathologists
Why our Recovery and Reconditioning program is right for you
Using evidence-informed guidelines, our licensed therapists design patient-specific plans to set and meet a patient's goals.
In each treatment session, we track vital signs and symptoms to ensure patient safety and progress.
We can treat you or your family member onsite in our centers. If preferred or necessary, evaluation, diagnosis and treatment are available with telerehab and in-home care.*
Your choice of treatment setting comes down to your physical ability and preference. In-person sessions follow CDC, state, community as well as our clinical guidelines for safety. Telerehab sessions are private, secure and adhere to HIPAA requirements. In-home care allows our therapists to come to you in your home to deliver therapeutic exercises and education.
Our goal is to ensure you're comfortable in being an active partner in your treatment. Together, we will work to get you back to living a full, active life.
Masks are recommended but not required. Read our COVID-19 protocols.
*Care delivery availability varies by market.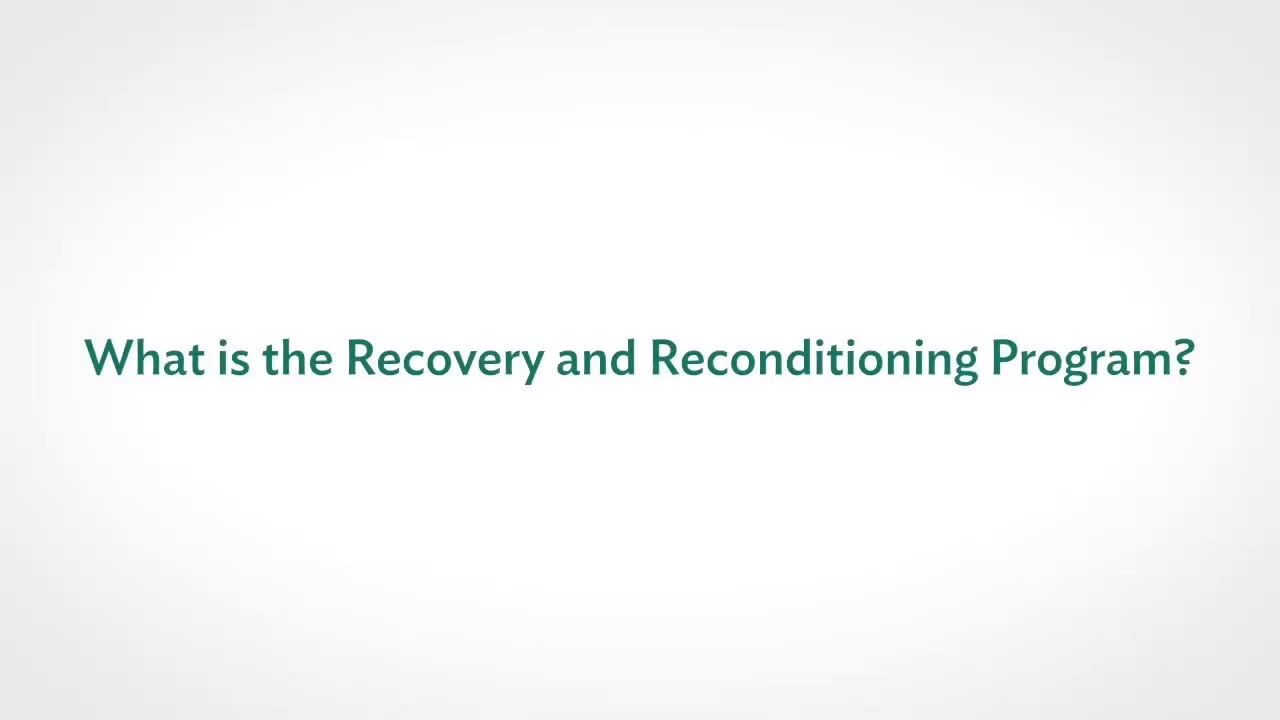 Your therapy experience matters to us at Kessler Rehabilitation Center. This video describes how our expert clinical team will help you get back to your most important activities.
Play the accessible version of the "What is the recovery and reconditioning program?" video
Take the next step. No prescription needed.